Cute Activewear Brands That'll Give You the Ultimate Workout Inspo.
Squeezing in a good workout can definitely seem like a chore, but figuring out what clothes to wear shouldn't have to be. Of course, comfort comes first, but while you're putting in all that hard work it doesn't hurt to feel your best too. So, whether you're looking for soft fabrics, breathable material, a flexible stretch that moves with you, a stylish 'fit, or all of the above, these 32 activewear brands have you covered to keep you on track with your fitness goals, even while practicing social distancing. (Ahem, please wear a mask when you're running or doing any exercises out of your house!!!)
Need even MORE fitness fashion inspo as you crank out those in-home routines? Check out these leggings brands and top-rated sports bras. And if you're ready to get movin', do this 30-day abs challenge, this 15-minute butt workout, or check out these yoga Youtube videos you can do indoors.
pruapparel.com
An acronym for power, representation, and unity, PRU Apparel is all about bright hues, patterns, and giving you a workout 'fit that'll make you feel you're most confident. 
OUTDOOR VOICES
outdoorvoices.com
TechSweat Crop
Outdoor Voices was created in 2014 with your old-school rec center in mind. "Remember back to your YMCA days?" the founder asked in an interview. "That's the kind of activity that we want to capture." The brand's signature color-blocked leggings and bras are a celebrity fave, but the functional details like zip closures and mesh backing will get you through even the most intense workout. You also get a pretty cool tote bag with any purchase—just sayin'. 
JU'NAE FIT
Fit & Fine Oversized Crop Top
junaefit.com
The brand is known for its long-sleeve sets, but it also has hoodies, bike shorts, T-shirts, and so much more—at VERY affordable prices, I might add. 
Fine Oversized Crop Top
ELEVEN BY VENUS WILLIAMS
Stunt Bralette In Pewter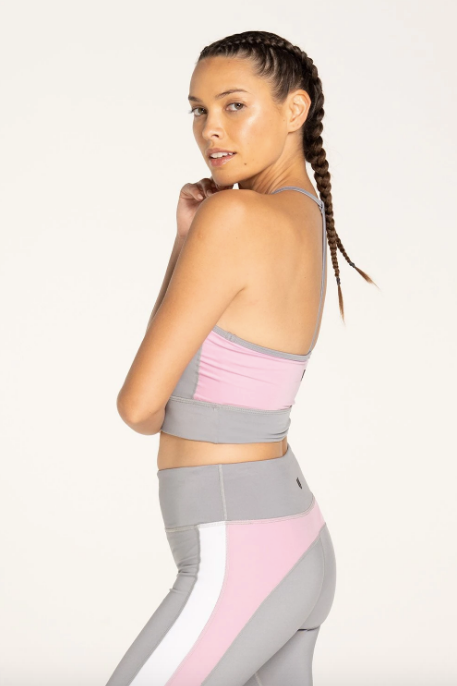 elevenbyvenuswilliams.com
Yes, THAT Venus Williams. Her line of activewear isn't just made for playing tennis—you can wear it for any kind of workout. Between the colorways and cool features like hidden pockets and mesh inserts, this will become your new comfy uniform.
Criss-Cross Sports Bra Purple Ankara
culturefitclothing.com
Breathability is key when you're sweating up a storm, and Culture Fit's designs definitely meet that criteria with the fabric and mesh panels for max airflow; plus, they feature West African print designs so you'll be so colorful while getting your flow on.
Nzinga Shine Bodysuit
mysolelyfit.com
Founded by ABC News reporter Stefania Okolie (in the middle of a pandemic no less!), this new activewear brand has some ultra-chic pieces, like this shiny one-shoulder cutout bodysuit. Zendaya is also a fan, so that's pretty high praise, IMO. 
Vanja Legging
roamloud.com
This teal and the yellow colorway is so cute! Roam Loud, founded by Toyin Omisore, has tons of options and fun hues from color-blocked leggings to pink joggers. 
Seamless Contour Leggings
lappthebrand.com
Model Leomie Anderson founded LAPP in 2016, and the brand's activewear has a futuristic vibe with the designs and color blocking. It also features graphic sweatshirts, sports bras, and more if you're into bold logos. 
Century Legging 2.0
carbon38.com
The brand's prints definitely pack a punch and put a twist on classic ones, like this more subtle-looking leopard print. You'll want to get a matching set ASAP so you can be the most stylish person at your Zoom workout. 
The brand's prints definitely pack a punch and put a twist on classic ones, like this more subtle-looking leopard print. You'll want to get a matching set ASAP so you can be the most stylish person at your Zoom workout.
Plum Compressive High-Rise Legging
girlfriend.com
You've prob seen this brand all over your Insta feed, and for good reason. Its bright sets are so eye-catching and the inclusive sizes range from XXS-6XL. Really. You can even choose your inseam length so the fabric doesn't scrunch at your ankles, and the fabric (made from recycled water bottles!) is wildly soft—just trust all the 3,000 reviews of these leggings. 
BEYOND YOGA
Alloy Ombre Sport Flex High Waist Midi Legging
Leggings have never been so fashionable thanks to the sparkly ombre effect of these. The brand blends both style and function, so you'll feel totally comfortable wearing these out of the gym onto the street. It also carries extended sizes that run from XXS to 3X. 
Offline OG High Waisted Flare Legging
ae.com
Yes, you love Aerie for its bralettes and underwear, but the brand also has some amazing activewear, like these flare leggings you can work out (or lounge) in. The prices are also affordable, and the brand offers a wide variety of sports bras and leggings. I mean, even Olympian Aly Raisman is a fan! 
Regular Rise Full-Length Takara Legging
carbon38.com
CARBON38's website has a bunch of trendy workout clothes, but it also has its own namesake brand that has sleek styles, like this navy set with a stunning sheen and ladder details on the top. 
Bolt High Waist Powerflex 7/8 Leggings
shopbop.com
If you're into an old-school vibe—think retro '70s and '80s gym gear—then this is totally in your lane.  You can also find flared leggings and tie-dye prints if you love making a statement. 
High Rise Bike Shorts
http://www.strenchfitness.com
One has some of the best bike shorts out there (they're seriously so soft!) available in v fun prints like this red-and-black leopard one. It's based in Venice Beach so it definitely channels the low-key but trendy vibes of California.
Two Piece Outfits Tie Dye Crop Top Leggings Set Tracksuit Multicolour
http://www.strenchfitness.com/
This strenchfitness has a bunch of quality activewear at prices your bank account can handle. It has more of a streetwear aesthetic, like this cool dyed set with cutouts at the neckline, for instance, so you can wear its pieces as a casual weekend look too.  
Whirlwind Tall Band Leggings
terez.com
Love you some OTT patterns and colors? Then shop from Terez. The female-founded New York City brand boasts hundreds of styles featuring prints like plaid, florals, and even mesmerizing swirl ones seen here
ALO YOGA
Sheila Legging
Yogis everywhere can attest to the quality of Alo Yoga's pieces; the fashionable cutouts, colors, and seam placement are really just an added bonus. Leggings come in sizes 00 to 14 and will feel like a second layer of skin—without sticking to you when you sweat. 
Athletic Apparel Manufacturers, Fitness Blog, Sports Clothing Manufacturers, Wholesale Gym Clothing,
Womens Fitness Clothing Manufacturer, Workout Clothing Manufacturers, Yoga Clothing Manufacturers,
Best Fitness Clothes Norway, Custom Athletic Wear Sweden, Custom Gym Wear Finland, ethical activewear manufacturer
Fitness Apparel Manufacturer Spain, Fitness Apparel Manufacturers France, Fitness Clothing Manufacturer Florida,
Gym Clothes Manufacturer Ukraine, Unbranded Gym Clothing Wholesale Florida, Wholesale Athletic Apparel Illinois,
Wholesale Athletic Wear New York, Wholesale Sportswear Suppliers Germany, Wholesale Womens Workout Clothes USA,
Wholesale Workout Clothes USA, Women Gym Clothes Wholesale Texas, Women Gym Clothing Wholesale Texas,
Women Gym Wear Wholesale USA, Womens Gym Clothes New York, fitness clothing manufacturers
Custom Fitness Apparel, Wholesale Activewear Manufacturer, Custom Sportswear Manufacturers, Sports Clothing Manufacturers
Seamless Clothing Manufacturer,